At What Age Can You Start DJing?
You can start DJing at any age. Especially when you're young you learn things much more quickly, so it would even be a good idea to start DJing as soon as possible. An added benefit when you start DJing at a young age is that you'll have a lot of years ahead of you to learn and gain experience.
Famous DJ and music producer Martin Garixx already DJed weddings in his teens. This means that he learned how to DJ at a very young age. According to Martin Garrix himself, he was inspired to DJ when he was only 8 years old. Martin Garrix signed his first record deal when he was 15 years old.
A good example of the unimportance of the age of a person who wants to DJ is Archie Norbury (DJ Archie). DJ Archie has achieved the record title for youngest club DJ at the age of 4 years and 130 days.
What is the Average Age of a DJ?
In an interview with wondergroundmusic.com, Marcus Feldman, a spokesperson for SIS International (an American research firm) revealed the results of research done by SIS International on the average age of DJs around the world. Their conclusion was that the average age of DJs in the world is 14. They compared this to results back in 2006 and saw a massive drop. This means that DJs are getting younger and younger.
They also revealed that they've seen a massive spike in young DJs in the age range of 1 to 6 years old.
With all these numbers we can conclude 2 things:
You can not be too young to start DJing
DJing is becoming more and more popular around the world
It is difficult to learn to DJ?
Learning how to DJ is not difficult. However, learning how to DJ does require patients and a lot of practice. DJing is a skill that you will master quickly if you put in some effort.
Recommended: How long does it take to learn to DJ?
If you want to be good at DJing you will first need to learn the absolute basics of DJing. If you don't start with learning the basics, but instead try to learn difficult transitions before you master the basics, your development as a DJ will go much slower, and learning to DJ will be more difficult.
My advice would be to take a course. All the information you need to learn is available for free online but the structure that a DJ course will give you will allow you to learn things in the right order and make sure you master the most important skills first. You have to build the fundamentals before you can progress.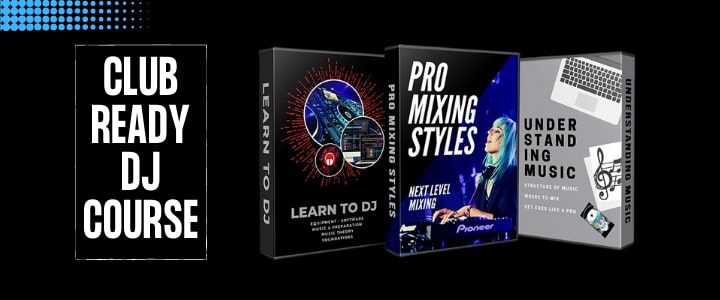 What do you need to start DJing?
DJ vs Music Producer
What you need to start DJing depends on what you want. First, you need to know if you want to be a music producer or a DJ. Many people think that what they want is to DJ but what they actually mean is that they want to produce music.
The difference between DJing and producing is that if you're a DJ you play music from other people or your own. When you're DJing you're not creating music. When you're a music producer you actually create the music that you and or other DJs can use to DJ with.
Oftentimes people want to be like famous DJs like DJ Tiesto, David Guetta, Martin Garix, and Armin van Buuren, however, these famous DJs are mainly music producers who create awesome tracks.
Software
It doesn't matter what your goal is, to produce music or to be a DJ, for both tasks you will need software. For music, producers need to download Digital Audio Workshop (DAW) and DJs need DJ software.
Equipment
You can learn how to DJ without equipment, by using just your laptop, however, most aspiring DJs and producers don't want to learn how to DJ or produce without equipment though.
DJ Controller
If you want to DJ and blend your favorite tracks together to make the people on the dancefloor have an amazing time, or even when you want to DJ as a hobby, the equipment that you'll need is a DJ controller.
If you're a beginner DJ, you should look at beginner DJ controllers for between $100 – $300. Below are 3 recommendations (click on the images to go to the product page).
MIDI controller
For music production, you need to be able to create your own beats. You can't create beats when you don't have sounds. That's where the MIDI controller comes in.
The most common MIDI controller is the MIDI keyboard. Prices for MIDI keyboards can range anywhere from $39 up to over $1000.
MIDI controllers however are not required to create simple beats. Some DJs use a simple DAW like Serato Studio, to create their own Hip-Hop beats or extended versions of original songs. They use these beats and extended versions in their DJ mixes to make them more unique and reflect their own style.
Courses
A good place to look for DJ courses is Udemy. You can find cheap DJ courses and you can read a lot of reviews from other people who have taken the course.
If you want to learn how to produce music then you might be interested in Timbaland's beat-making and production course on the learning platform Masterclass and Armin van Buuren's course for producing Dance Music.
Conclusion
You are never too young to learn how to DJ. You can start DJing at any age. It's even recommended to start at a young age because you'll learn quickly and you'll have more years to learn and gain experience.
Learning how to DJ takes patients and lots of practice. It's recommended that you take a course when you want to learn how to DJ. There are a lot of good DJ courses out there. Especially on Udemy and Masterclass, you can find good courses that will teach you the foundations of your preferred skill, DJing or producing.